File Server Backup Software for Windows
BackupChain®: Backup Software and Toolset Made for IT Professionals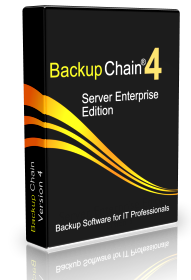 If you are looking for a file server backup software for your Windows file Server, you may want to check out BackupChain. BackupChain offers dozens of features specifically for file backup, such as version backup and filtering, but also includes disk imaging capabilities. Whether you are backing up a NAS or plan to set up a network backup or cloud backup, it can be all done using one and the same tool.
Important Features of File Server Backup
The ability to run several Windows server backup tasks simultaneously
Stable file server backup. Needs to run forever without leaks or instabilities
Incremental and differential deduplication of backups to save space when repeatedly backing up the same large files
Proper handling of security settings
Configurable CPU core usage and priorities
Configurable retention limits: you would want to keep X versions of each file, depending on its type. A typical file server may host databases, Excel sheets, Word documents, etc. While it is often possible to hold on to each Word document indefinitely due to their small size, larger databases can't be backed up forever. A good solution allows you to configure retention by limiting the 'number of versions' to keep and also allowing you to stipulate time limits after which certain files expire and are automatically deleted.
Speed throttling to avoid clogging of business network
Cloud backup functionality: backup your files to a local drive, network share, and cloud servers. Ideally one solution should handle it all
Logging: a good file server backup software should have good and detailed logging so you can pinpoint issues quickly and accurately
Handle millions of files and folders without using additional resources
If the backup solution uses databases to keep track of its backups, the backup software should take be able to recover the data even when those database (a.k.a. file catalogs) are missing or damaged
You would want to check whether Hyper-V, VMware, SQL Server, and Exchange backups are included or only available at additional charges
Can the backup tool receive backups from other sites or servers?
Is the tool capable of deduplicating large files over FTP for remote backups?
Are affordable cloud backup plans available for large file servers?
Does the tool handle Unicode (foreign and special) characters and extremely long path names properly?
BackupChain meets all the criteria stated above and much more. In addition to file server backup, BackupChain also offers full system backup and HDD cloning. Download the full version today!