Granular Backup Software for Hyper-V
What is Granular Backup for Hyper-V?
Granular backup for HyperV is an great backup method introduced by BackupChain backup software that allows users to access and protect individual files and folders residing inside a virtual machine, but from the host and without agents inside the virtual machine (agentless). You simply run BackupChain on the host and select files or folders inside the virtual machine's file system and BackupChain takes care of the rest.
Granular Backup in Action
First open the virtual disk file, you can do this while the virtual machine is running. Supported are VHDX, VHD, VDI, and VMDK: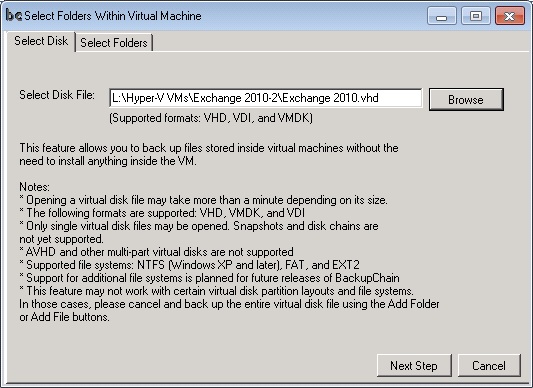 The above example uses Granular Backup to open an Exchange Database located inside a VM.
After that a new browse screen opens and you can select the folder directly, as if it were stored locally on the host:

Now the backup will use all default settings and apply them to the virtual machine folders you selected.
Benefits of Using Granular Backup
The advantage of using Granular Backup are:
you save time by backing up only a couple of files and folders instead of the entire VM, which could be huge
you save storage space because you are backing up just a little fraction of the VM
you can back up more often, say hourly instead of weekly, because the overall volume is dramatically reduced
Incremental deduplication will work even better when we access database files directly as compared to deduplicating an entire partition or virtual disk
Hybrid Backups: Granular and Full Backups at Different Schedules
Almost all users would want to use both backup methods simultaneously in two backup tasks:
Task #1: Backup up full virtual machine say every week or night.
Task #2: Backup Exchange or SQL Server folders inside a VM every hour
Visit //backupchain.com/Hyper-V-Backup.html for more information